Why should I get an online CV?
A lot of and more folks change over to making a digital CV. There are many reasons for this. One is that your CV isn't out there to just one different person: instead, any probably interested party will take a glance at your information as well. Besides, it typically makes a giant impression after you run your own well-maintained web site along with your qualities on it.
A digital version additionally offers a variety of sensible advantages: you don´t need to send a CV by post, and therefore the employer can check out the document from any location, whenever he wants.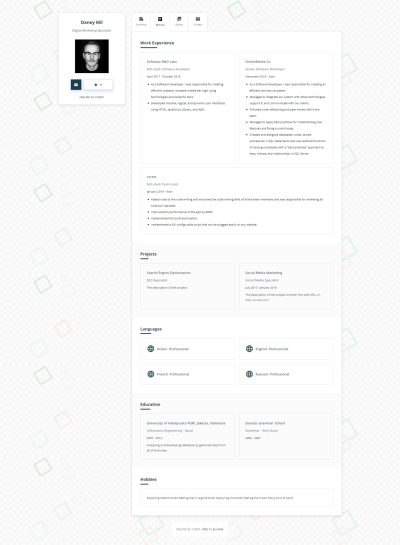 What is cvrest?
CVRest is a professional online CV builder that helps you create, manage, and update your online CV easily.
CVRest also gives you the ability to create your CV, Resume, and Cover Letter.
CVRest gives you the ability to choose from FREE professional online CV Templates and premium advanced online CV Templates.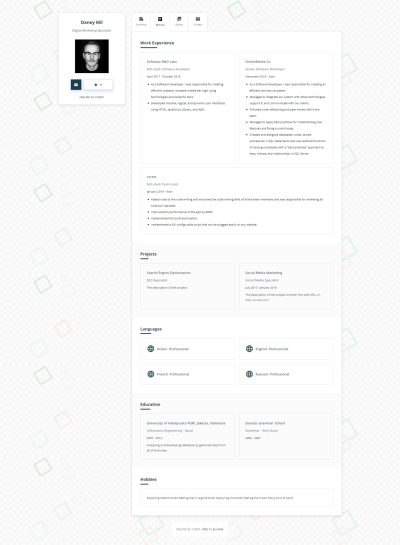 Why use cvrest as an online CV builder?
Easy to use.

No need for software download.

Save a lot of time.

You can download your online CV as a well-formatted PDF CV.

Keeping your online CV up-to-date.

Making your online CV consistent and well-structured.

It helps you focus on important content.

You can access your information anytime and anywhere.
Is cvrest a free online CV builder?
Yes, cvrest is a free online CV builder without any restrictions.
No credit card required.

Unlimited number of online CV visits.

Unlimited number of online CV updates.
And there is too a premium online CV builder plan which will give you more advanced templates and features.