Why should I get an online CV?
More and more people are switching to creating a digital CV for several reasons. One reason is that your CV is not limited to just one person; instead, any potentially interested party can view your information. Additionally, it often makes a great impression when you have your own well-maintained website showcasing your qualifications. A digital version also offers practical advantages, as you don't need to send a CV by post, and the employer can access the document from any location at any time.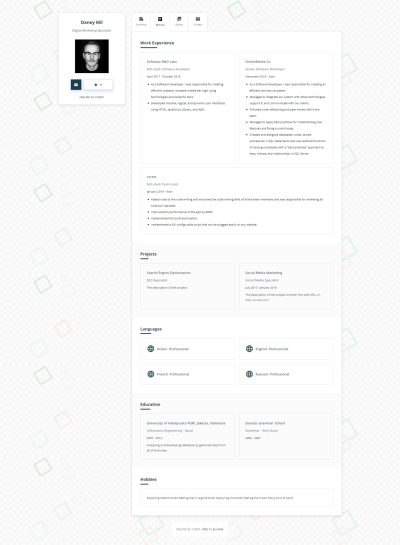 What is cvrest?
CVRest is a professional online CV builder that helps you create, manage, and update your online CV easily. CVRest also allows you to create your CV, resume, and cover letter. You can choose from free professional online CV templates and premium advanced online CV templates.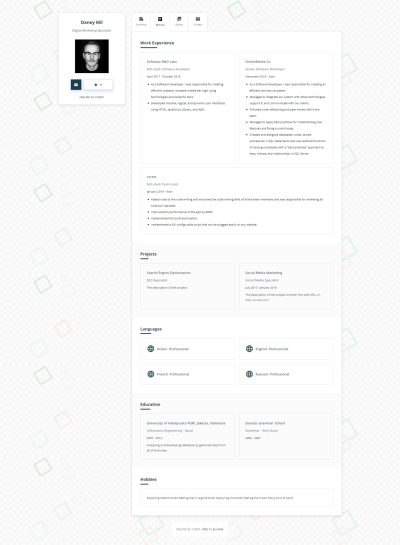 Why use cvrest as an online CV builder?
Easy to use.

No need for software download.

Saves a lot of time.

You can download your online CV as a well-formatted PDF CV.

Keeps your online CV up-to-date.

Makes your online CV consistent and well-structured.

Helps you focus on important content.

You can access your information anytime and anywhere.
Is cvrest a free online CV builder?
Yes, cvrest is a free online CV builder without any restrictions. There is no need for a credit card, and you can have an unlimited number of online CV visits and updates. Additionally, there is a premium online CV builder plan that offers more advanced templates and features.